This page captures a collection of projects that I worked on during my work as studio lead & service designer at Ideactio, from 2018 to 2021. My role for each of the projects is listed accordingly. The copyright of all projects belongs to Ideactio.
What if you walked into a store to buy 2 shirts, and walked out more confident than you came in?
Role: Project lead & service designer
Everybody buys clothes. For most men, this is a transactional experience: you leave the store after successfully buying the 2 shirts you came for. But what if you could leave a store feeling more confident than when you came in? Through a co-design process, we figured out how retail staff can inspire confidence, and developed a gamified service training to nurture a new service culture.
Read the complete case study here.
Key learnings from project:
Less is more for learnability
Start testing early & informally
Live as a user (e.g. work in a store)
Co-creating an organisation's collective identity and culture.
Role: Project lead, service designer, lead facilitator
A new statutory board was looking to develop its culture and define its values, to align all 1500 employees with the aspired way of working. Co-creation allowed members of the agency to create the culture, collectively with everyone.
To build momentum and create buy-in of the new values, we gamified all our engagements with staff, to make such workshop experiential while meeting the objective.
Read the complete case study here.
Key learnings from project:
Create excitement for excellence
Align on both what (activities) and how (approach)
Make it fun to create memories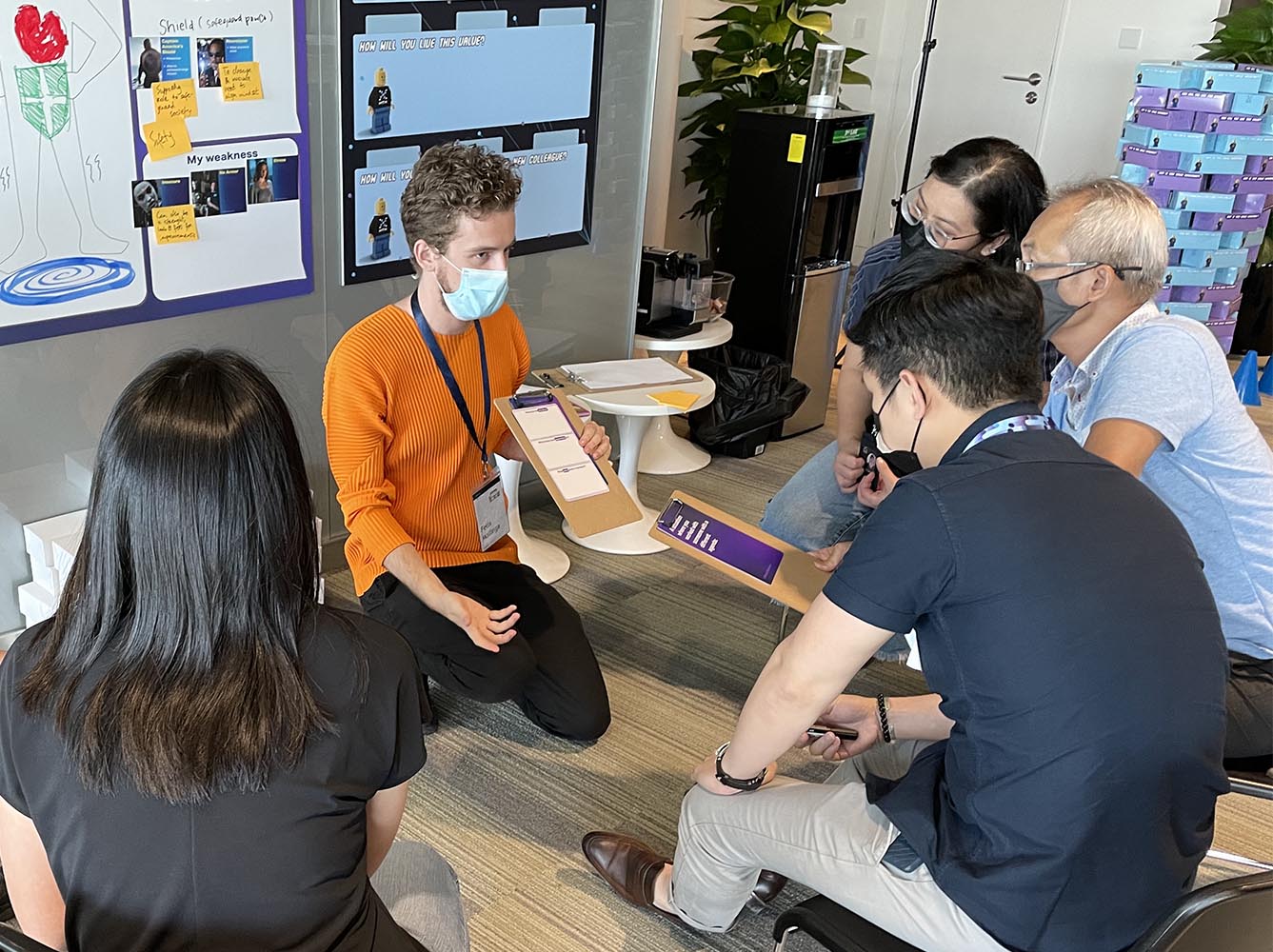 What if opticians reassured you to see the world through a different lens?
Role: Project lead & service designer
Few things impact you more than the way you see the world. Additionally, first impressions are built on eye contact. So our eyes don't just shape how we see things, but also how others
see us. How do you want to see? And how do you want to be seen? Surely the answer to both of those questions is "in the
best possible way".
Read the complete case study here.
Key learnings from project:
Focus on the right problem (e.g. why people don't wear contacts, not why people wear now brand of contacts over another)
Search in new and unexpected places for solution inspiration
Designing a financial advisory service to provide seamless & custom experiences to different clients.
Role: Project lead & service designer
Through research with customers and home loan advisors, we identified 4 specific client profiles, each with different needs and behaviours in their home purchasing journey. To differentiate our client in a tough industry, we crafted a service strategy, scripts, and training content for advisors to effectively serve the needs of these different client profiles.
Key learnings from project:
Narrow down on moments to truth in customer journey early
Define relevance of personas to project objective
Flexibility for testing (e.g. on WhatsApp for quick feedback)
Raising the bar for service excellence, from 0% complaints to 100% compliments.
Role: Project lead & service designer
A well-known group operating several attractions, restaurants, and gift stores aspired to raise the bar for themselves to increase NPS and focus on creating consistently delightful service.
By co-creating and testing training with staff, we designed a 3-stage training with an engaging game, facilitated through simple game cards. The game prompts service staff to role-play as guests and hosts, and practice serving one-another using the newly crafted service principles.
To ensure consistent tracking, we also created a service assessment guide to measure training effectiveness, staff's delivery of service, and customer experience improvements.
Key learnings from project:
Remove client-side managers from interviews for unbiased answers
Management buy-in is a must for implementation follow-through & staff commitment
Nurturing a culture of collaboration in a team with 30+ nationalities.
Role: Trainer & service designer
The various teams of a Singapore fintech firm "spoke different languages" - while they all spoke English, they had a hard time working together due to different priorities and approaches.
Through an extensive research process, we uncovered the root causes, and developed a solution comprising of tools for self-reflection to nudge behaviour change.
Key learnings from project:
Lack of momentum in co-creation indicates lack of commitment to implement
Good deliverables without adoption are bad deliverables
Make it bite-size
Training travel agencies on Design Thinking to transform their businesses.
Role: Trainer & toolkit design
This was a sector-wide engagement for the tourism industry in Singapore, focusing on mindset change and innovation capability development, through intensive multi-day design thinking workshops. I also contributed to multiple 1-on-1 coaching sessions with travel agents to develop their business ideas individually, and help them to overcome industry disruption. We quickly designed and tested app prototypes to validate new business ideas.
Additionally, we developed a design thinking toolkit for the travel industry, with key principles, tools, and activities to guide travel agents to start innovating independently.
Key learnings from project:
Value in industry-specific examples
Test with real customers quickly for buy-in
Be adaptable to changes on the fly
Business Innovation train-the-trainer program, on human-centered innovation.
Role: Trainer & innovation toolkit
We delivered a toolkit and train-the-trainer programme for Small and Medium-sized Enterprises (SME) Centre Business Advisors (BAs), to equip them in running their own workshops, to enhance their consultation process with SMEs on business innovation, and to address various business challenges with a people-centered approach.
Key learnings from project:
Practice beats theory
Train-the-trainers with common mistakes and scripts for handling coaching scenarios
A selection of other projects during my role as studio lead & service designer at Ideactio:
New business model design to develop new business unit and positioning differentiation for regional security technology hardware distributor.
Role: Project Lead & Business Designer
Customer research & marketing strategy for regional
furniture brand.
Role: Design researcher
Womenswear brand post-covid growth & positioning strategy.
Role: Service Designer
Various speaking engagements.
"A rare breed of talent in multiple design disciplines and an unmatched sense of ownership. Felix is extremely dependable, creative, and strategic - all in one package. As an empathic listener, he is able to uncover unarticulated needs by digging deeper and asking the right unscripted follow-up questions. Beyond deciphering meaningful insights, he has experience in and is skilled at defining strategic opportunities, by understanding the implications of research outcomes on business."
- Nav Qirti, founder & principal of Ideactio