This article was written in celebration of this project receiving the Singapore SG Mark Design award 2021 by DBCS, category experience design.
This project was completed during my employment at Ideactio. My role was as project lead & service designer. The copyrights to the project belong to Ideactio. Ideactio's team is extremely honoured and grateful to have received this award, and thoroughly enjoyed the process of working collaboratively with Coopervision.
Designing the service for a product customers are scared of: A service design project for a contact lens brand.
This is Shaun. Shaun wears glasses. Not because he wants to, but because he needs them to be able to see in his day-to-day life.
One day, Shaun goes to an optical store to buy a new pair of spectacles. In the store, the Eye Care Practitioner (ECP) asks him if he would like to be able to see without glasses. "Of course I do", he says. "It would be so much more convenient, and I will feel a lot better. But how?"
The ECP recommends him to consider contact lenses. Hesitant at first, Shaun is guided to overcome his concerns, and decides to give it a try. That day, he walks out the store feeling confident with his looks for the first time since he started wearing spectacles 15 years ago.
Experience design to reassure spectacle wearers to see the world through a different lens. (Awarded SG Mark Design Award 2021)
Eye Care Practitioners (ECPs) play a pivotal role in creating the customer service experience in optical stores in order to ensure customer satisfaction. CooperVision, one of the world's leading manufacturers of soft contact lenses, distributes their products through optical retailers. Consequently, they rely on the Eye Care Practitioners of optical retailers to interact with their wearers, who might come in seeking just one vision solution, but are unaware of other vision solutions that could cater to their other lifestyle needs.
The primary goal of this experience design is to help wearers look and feel good by recommending them multiple vision solutions that fit their lifestyle needs. In order to effectively deliver the desired service experience, CooperVision wanted to train ECPs in a customer-centric service approach. Ideactio created the EYECARE service approach and training for frontline optical staff to equip them with service and sales techniques to positively impact the lives of their wearers through the service they provide.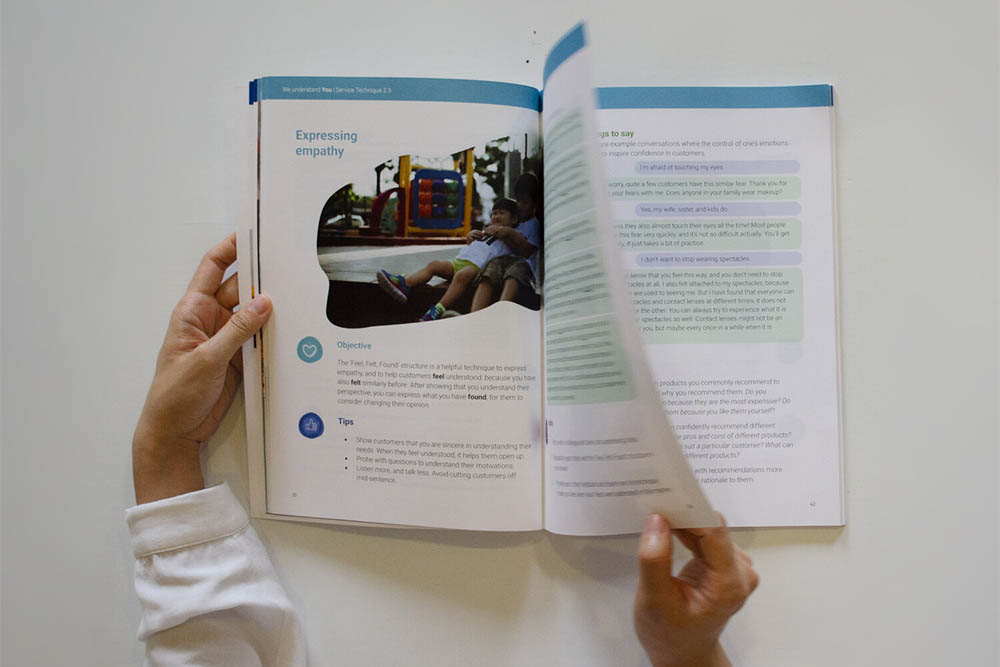 The EYECARE ambassador tool and service approach is designed to help optical retail front-liners impact the lives of wearers by helping them to look good and feel good.
Staff in optical stores face various difficulties selling contact lenses, yet research revealed that it is not due to a simple sales capability challenge. After all, optical staff are well equipped to sell spectacles too.
Our objective was to develop a compelling service training for optical staff, to teach them how to sell contact lenses. This required reframing the problem, and repositioning the solution: contact lenses are more than a product that helps spectacle wearers to see. A successful contact lens experience resolves fear, provides reassurance, and allows wearers to meet their lifestyle needs in a new way. Ultimately, the goal is to allow wearers to look good and feel good through the vision solutions that they choose and the service they receive.
7 E.Y.E.C.A.R.E. Service Principles
The E.Y.E.C.A.R.E Service Principles were synthesised from interviews with ECPs staff and an internal workshop with CooperVision to understand the ideal service that ECPs could deliver to customers. The principles are also an easy way for ECPs to remember how to deliver great service, as the acronym comes together to form the word EYECARE.
21 Service Techniques
To guide ECPs in adopting the 7 Service Principles, each principle comes with 3 curated service techniques. Each with its own short activity to help ECPs practice their service skills. Techniques include methods to handle common objections, provide empathetic reassurance, and encourage customers to consider trying something they have not tried before.
Tips, Scripts, & Practice Activities
Each service technique follows a structure that includes the objective of the techniques, tips to apply them, examples of things to say, and activities to practice the techniques.
Ending each service technique with an 'Activity' encourages ECPs to practice the service technique in their optical store and apply them to their own lives. These service techniques are also life skills that can positively impact the ECPs' own personal growth.
Lifestyle Consumer Archetypes
7 Customer Archetypes represent 7 key reasons why customers might not consider using contact lenses yet, and tips on how to help them overcome these objections.
Service Journey Scripts
In the 8-step service journey, each step is detailed with the service goal and actions to achieve the goal.
An example conversation is then used to illustrate the service journey, helping ECPs to understand how to achieve the service goal at each stage, while applying the recommended service techniques.
Roleplay
To help put learning into practice, the Roleplay section helps ECPs apply the service techniques that they have acquired together with the different customer archetypes in the service journey.
Tracking Progress
Measurable outcomes are key for users to see the value of a tool. At the end of the tool, we developed a simple progress tracker for ECPs to reflect on their own progress - in terms of how much they are practicing the E.Y.E.C.A.R.E Service Principles in their day-to-day work. After their self-evaluation, ECPs might wish to improve at one or more of them, so they can then go back to the respective service techniques for each principle.
Although exact figures on the impact of the tool reside with the client, there is evidence of its impact:
After a successful pilot in Singapore, the tool was rolled out into 7 additional countries: China, Taiwan, Korea, HK, Malaysia, Australia, & New Zealand.

The learnings from the tool were captured in an eLearning course, as a subsequent project from the client, for ECPs to learn about identifying customer types efficiently.

The project was awarded Singapore SG Mark Design Award 2021, Experience Design Category
"Appreciate all the dedication and hard work you've put into our projects. It has been my pleasure working with you. I have said this before and it still stands that I trust in the work that you deliver because of the extra mile you go to make things work." 
- Kenny, Regional Marketing Intelligence Manager & client-side project lead